Established in 1890, the Wolfville Volunteer Fire Department provides services to the Town of Wolfville and adjacent communities of The Municipality of the County of Kings. The Department consists of forty (40) Volunteer Firefighters, who provide not only the 'usual' firefighting duties but in concert with neighboring departments, Kentville, and New Minas, Volunteer Fire Departments, have developed a special team to provide Hazardous Materials (HAZMAT) Emergency Response service across Kings County.
The Department responds to approximately 150-200 calls per year.
Are you prepared for an emergency?
Take time to review the Kings County Regional Emergency Guide
Mission Statement:
"To provide quality Fire Suppression, Fire Prevention, and Rescue Services to protect the lives and property of the Citizens of Wolfville and surrounding communities."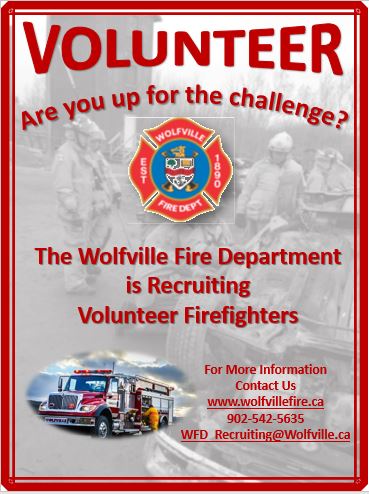 Do you have questions about becoming a Volunteer with the Wolfville Fire Department?
View this list of Frequently Asked Questions (FAQ)